Are you ready to start organizing your curriculum? If you haven't seen my first post, look HERE before reading this one. Okay, now I have a very detailed blog post for you! To get started I gathered all of my 2nd Grade Rooted in Reading materials for August. I separated everything by book and made my four stacks. Please note that it would work the same for any of our Rooted in Reading units… but I started with 2nd grade August since we just made MAJOR updates to that month!
Next I got some organization tools ready to go. I used file folders, envelopes, paperclips, and sharpies. You can find all of my purchases HERE. (I did buy these file folders from Mardel, but the Amazon ones may be easier to order. On Amazon, you can buy 100 colored file folders for 15 bucks! Of course regular file folders work just as well)
After that I chose one book to start with. I sorted my materials into these categories: Grammar, Comprehension, Anchor Charts, , Vocabulary, and Art/Writing.
You'll see here with my grammar materials that I used paperclips to keep cards together.
I used large mailing envelopes to keep all of my anchor chart pieces together. That is definitely not necessary, but it ensures that those pieces will stay together and not get lost!
I also put the comprehension questioning cards into a small mailing envelope (a regular envelope or baggie would work fine too!).
Here you will see all of my stacks organized and ready to go. Remember, this is just for one book. So, you'll see the anchor chart envelope, the comprehension activities (with the questioning cards in an envelope), art and writing, grammar, and vocabulary (with the vocabulary cards in an envelope).
Then I put all of the book activities into one file folder. I have all of the examples in my folder because that's what I have from creating the unit. You could also do this with the master copies. Either way works!
I repeated that process for each of the four books in our August unit. Each book has a file folder with the activities organized inside. I organized by component, but that was just my preference!
There are so many ways that you can organize. A filing cabinet, a notebook, large tubs, etc work just as well too. I think just figuring out what is going to be most beneficial for you is the key. Think about what will make your life easier and go with that! It can also get overwhelming if you are trying to organize all 40 weeks at one time. So, do what works for you. It may be that you want to organize as you are teaching those units throughout the year rather than sitting down and trying to tackle an entire year of curriculum at once. You definitely have enough on your plate, so don't add more stress to that.
The last thing I did was put all four books and file folders into the bin for August. Everything fit perfectly and I still have room to spare!
Now it's all ready to go. Don't forget to look HERE for the post with the bucket labels. Now I only have 9 more months for 2nd grade and then all of 1st and 3rd to do, ha!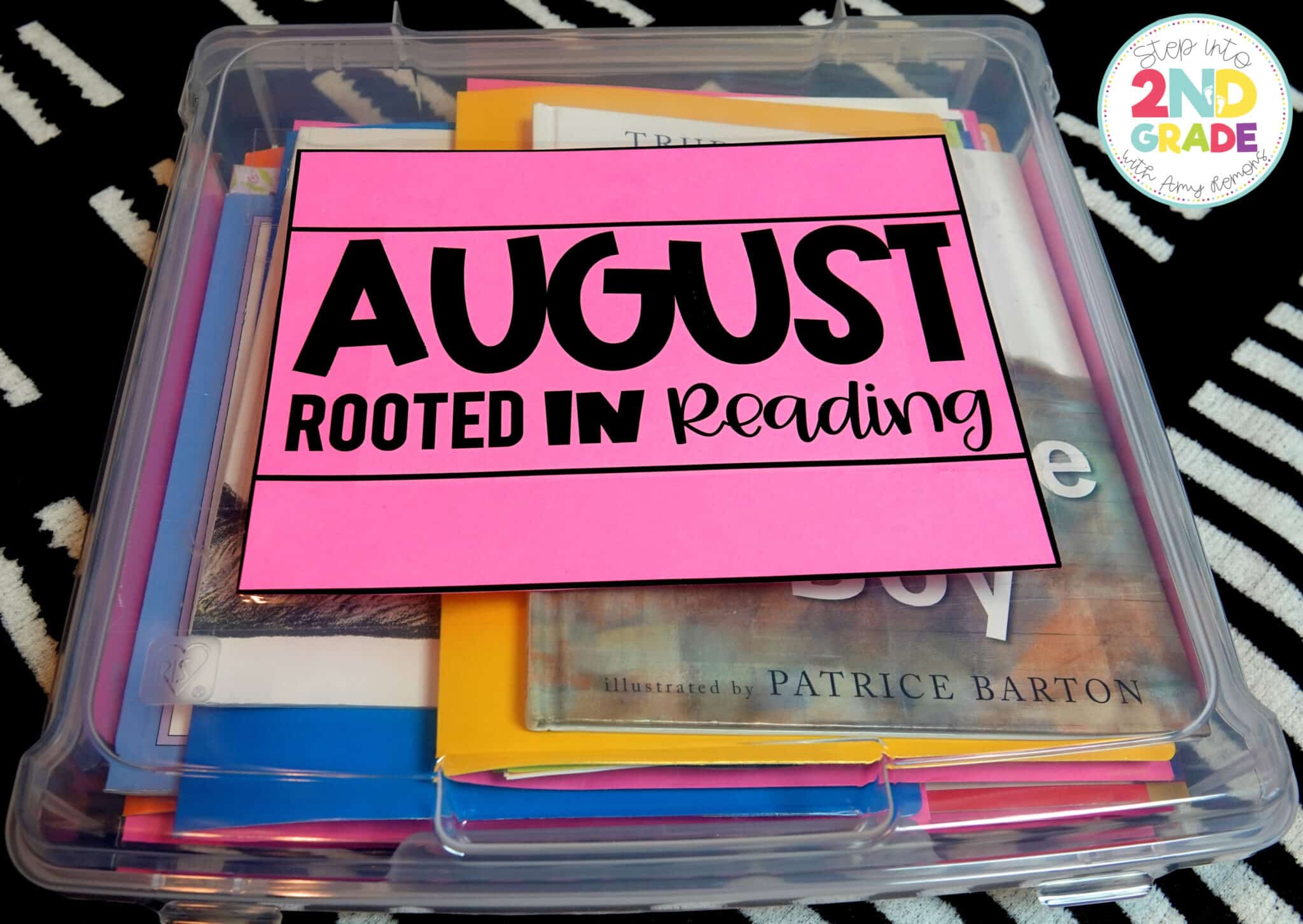 Want to save this post for later? Make sure to pin this image to your Pinterest board!