This summer I am hosting an organizational series here on the blog. Today I am sharing how I am beginning my journey of becoming the most organized version of myself ;). Right now I am focusing on organizing my Rooted in Reading units, but this post might give you some ideas even if you don't use that specific curriculum. Click HERE for part two.
What Should I Use to Organize?
The first thing I did was decide how I wanted to store the curriculum. Did I want to use notebooks, baggies, tubs, etc.? I currently just throw everything into a large plastic tote and cross my fingers that it doesn't get lost or ruined. It's a mess, y'all! I decided to go with 12 x 12 IRIS tubs because they are stackable, not too thick, and fit an entire month of Rooted in Reading inside. You can find those HERE.
Creating Labels for Organization
The next thing I needed to decide was how I wanted to label the tubs. I decided to put a whole month into one box, so I created monthly labels for the tops and the sides. This way I can see which tub is which no matter where I decide to store them. Since there are 10 months in the curriculum, I used THIS paper.
Organizational Tools
Here are all of the materials that I used to create my Rooted in Reading bins. You can find all of the Amazon links below the image.
IRIS 12 x 12 Project Case (I bought two sets of 6)
Putting it Together
To secure the labels I used packing tape. You could laminate and use Velcro dots or try hot glue. I am going to tackle my other grade level units soon and try different methods. I'll keep you posted.
Label ALL THE THINGS
You can see that I labeled every single side. This is NOT necessary. In fact, if I weren't sharing here then I would NOT have done that. I just wanted to make sure that you had all the labels your little heart could ever want!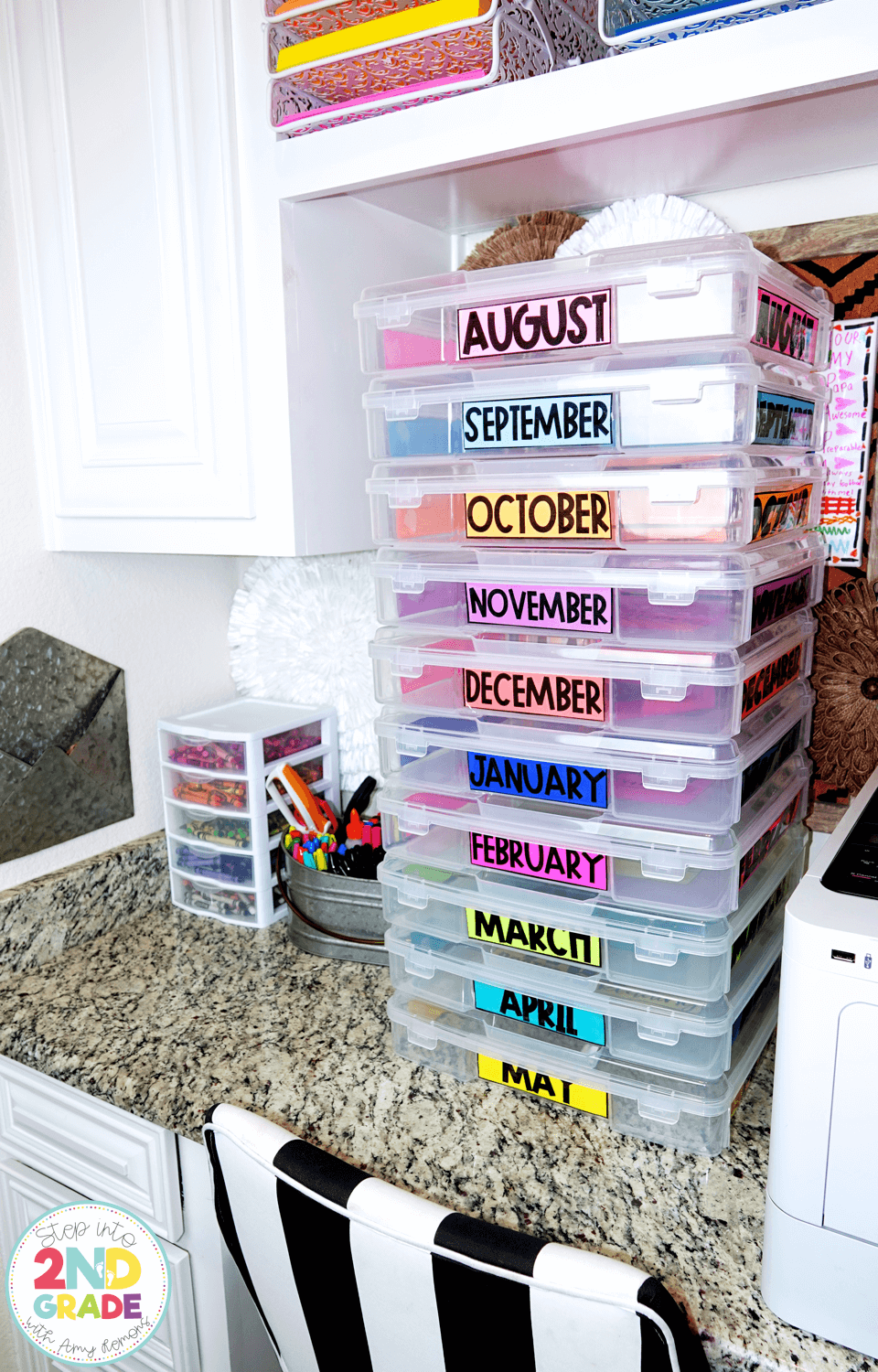 My chair is from Pottery Barn Teen. I got is as a mother's day gift last year. My paper organizers are from Amazon. You can find those HERE.
Grab Your Labels Below
I have put all of the labels into one document so that you can organize right alongside of me! I have generic labels like you see in the pictures. I also have the labels with grade levels for Kinder, 1st, 2nd, and 3rd grades. In Part Two, I'll be sharing how I organize the inside of the tubs.
If you aren't on my email list, subscribe below to grab your Rooted in Reading Organizational FREEBIE! Once you subscribe, check your email (make sure it isn't in SPAM), and click "Confirm Subscription" The document will download immediately after! If you are using a school email address, it may not work. Many districts block emails such as these! Use a personal email address, and you should be good to go!
I hope that you enjoy my organizational series this summer. Click HERE for Part TWO. Want to save this blogpost? PIN the image below to your Pinterest boards!
{Amazon Affiliate Links were used in this blog post}