Are you ready to be inspired to go ALL OUT for Shark Week in your classroom? Today I am going to share a simple way to create a BIG impact on your students with shark decoration ideas! I do not share a lot of classroom transformations here on the blog, but our Rooted in Reading teachers asked for a little Shark Week inspiration, so here we go! You'll see how you can take items you already have, mix them with inexpensive decor, and sprinkle a few books in to create the perfect backdrop for Shark Week.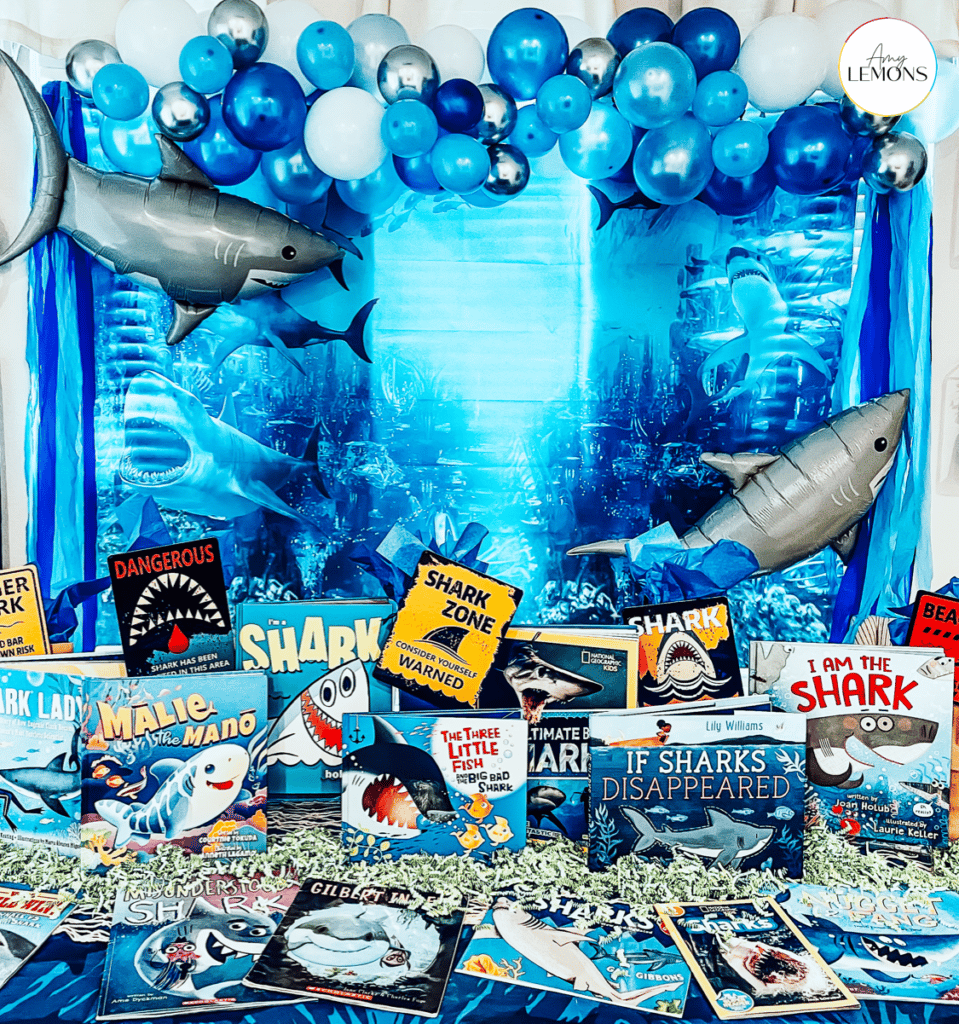 Shark Week Backdrop
Grab your shark books, some butcher paper, or tablecloths, and let's get started! Here's what I did:
I covered the table with a shark tablecloth, but you can just as easily use butcher paper.
Hung up a shark backdrop. I would do this on the focal wall of your classroom. You don't have to cover every wall to make a big impact. I used a backdrop, but you can also use butcher paper or tablecloths to cover wall space.
Next, I used a balloon arch kit to create an ocean bubble effect above the backdrop. This was my first ever balloon arch kit, and it was so simple to use! I definitely suggest having some sort of balloon pump to make this go even faster. I did not use all of the balloons, only what I needed for the space.
Then I tore strips of streamers, bundled them together, and taped them to the sides of the backdrop. This filled in any empty space that the backdrop could not cover on its own.
Last, the shark balloons were the perfect final touch. I used glue dots to secure the sharks to the backdrop. Easy peasy!
Using Shark Books As Decor
I love showcasing themed picture books during a unit such as Shark Week. This draws the students' attention to a specific group of books. The books not only look great as decor, but they also look so appealing to our readers! You can find my favorite shark books HERE.
After I set out the books, I used the shark signs to fill in empty spaces. I love the mix of books, tissue paper, and shark signs together. For the final touch, I sprinkled green crinkle paper to give the effect of seaweed. Such a simple to use something you already own in your shark decoration!
Where to Find Shark Decorations
Can you believe that I only purchased 6 things to make this happen? AND if I would have used butcher paper and balloons I had on hand, it would have been even less! I am not suggesting that teachers should go out and spend their own money to flip their classrooms for a week. Reach out to your social media, create an Amazon wishlist, or send a quick email to parents to ask for help. Use the stakeholders in your area because most likely they want to help students and teachers! Personally, I am so excited to give all of my shark things to my sister-in-law who is a 2nd-grade teacher. Now she can use all of the items for Shark Week in her classroom!
Here are the links for everything I used for this Shark Week Transformation.
Green Crinkle Paper and Blue Tissue Paper
Save for Later
Don't want to forget these shark decoration ideas for Shark Week? Pin the image below to save for later!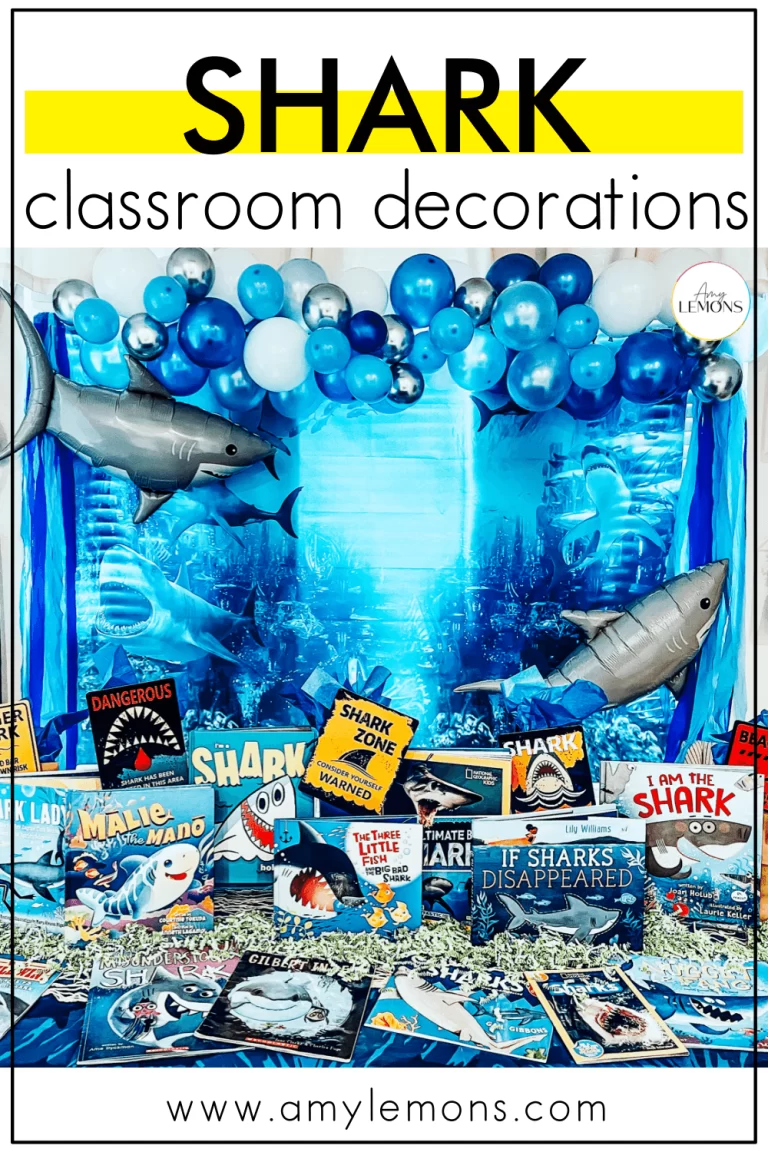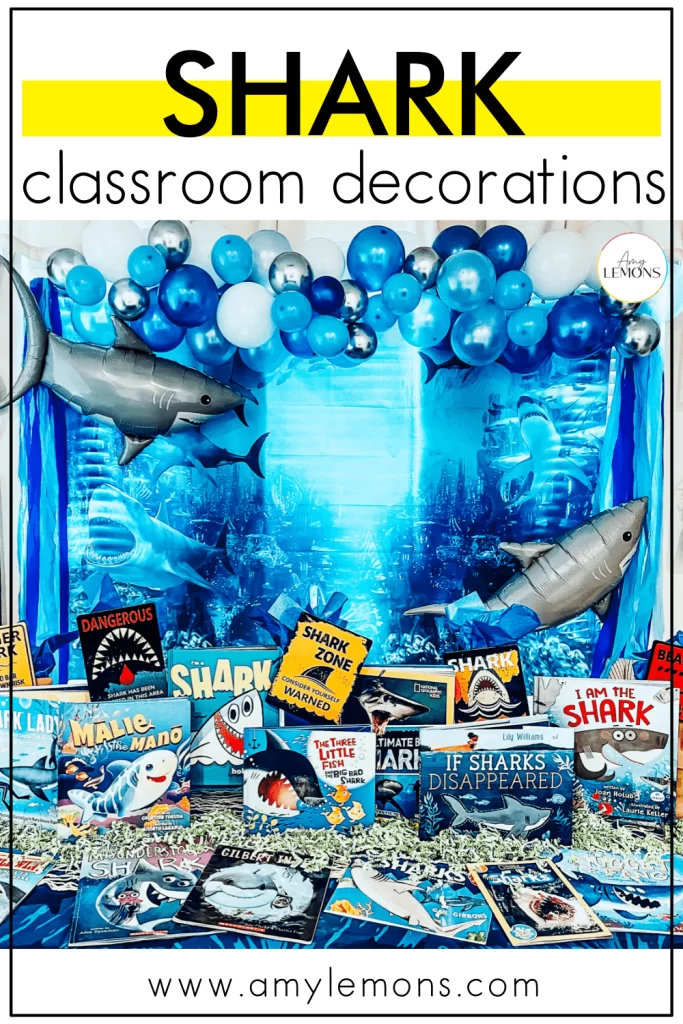 {Amazon affiliate links were used in this blog post}