Do you have a Math Focus Board in your classroom? Over the years, I have had several different math boards, but never one that encompassed everything I truly needed. After several requests from some of our Magic of Math teachers, I decided to create a Math Bulletin Board to share with you! I did create this with our Magic of Math curriculum in mind, but I also think it could work for anyone. Let me show you the board and what it includes before you download your FREEBIE!
Math Focus Board
The math bulletin board includes a banner that says "The Magic of Math" and bulletin board headers for different things you might want to display relating to your math content. You can see here that I chose to display the Objective, Vocabulary, Math Tips (for math focus posters), Activities, Math Games, and left a space for Math Anchor Charts.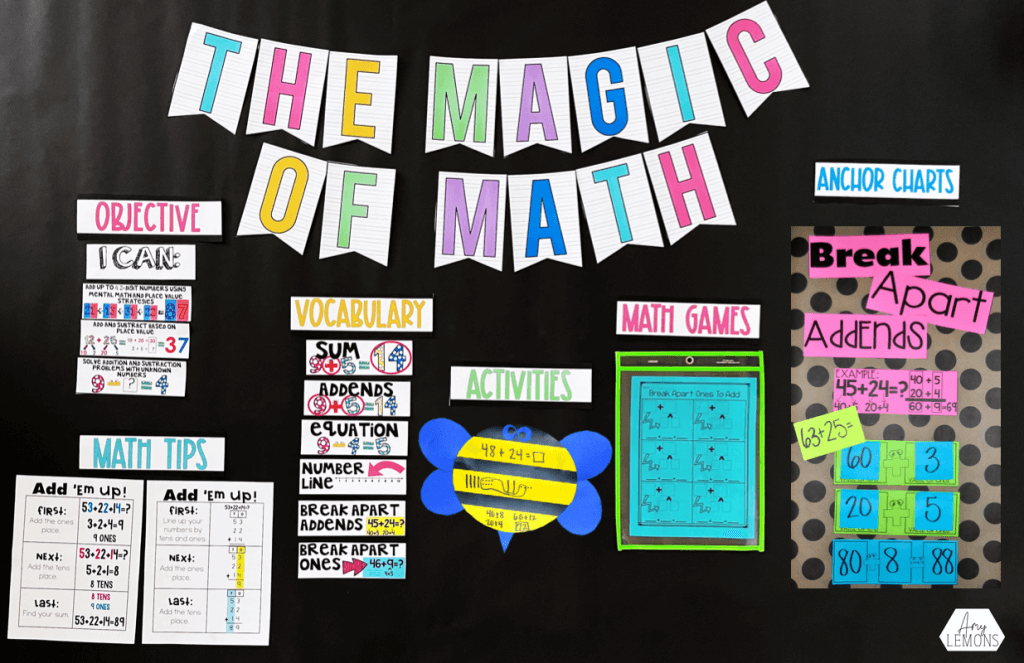 Plugging in the Content
Then I just plugged in the content for one week of math. This board focuses on 2 Digit Addition without Regrouping. I printed off the things from our 2nd Grade Magic of Math Unit 2 and displayed under the bulletin board headers.
Displaying Math Objectives
I don't know about your admin, but around here most expect that teachers display the objectives for the week. I used the I Can Statements from our curriculum along with the vocabulary. I love how you can see all of the major focuses in one place. You could even add dry erase pockets or plastic sleeves so that you can easily slip the digital posters in and out.
The great thing about this bulletin board download is there are options to print in colored ink or black ink. If you choose the black and white templates you can print on colored paper that matches your classroom vibe!
Please Note: The download includes the banner and the headers. The weekly content is not included in the freebie.
The Math Curriculum
To find out more about Magic of Math click HERE! You can find the curriculum below:
Don't Forget Your FREE Math Bulletin Board
Subscribe below to grab your FREEBIE! Once you subscribe, check your email (make sure it isn't in SPAM), and click "Confirm Subscription" The document will download immediately after! If you are using a school email address, it may not work. Many districts block emails such as these! Use a personal email address, and you should be good to go! It's also best if you put this email on your SAFE/NOT SPAM list: stepinto2ndgrade@gmail.com.
Even if you have already subscribed to my newsletters, you can still put your information in the box below. You will receive the confirmation link and download it through your email.
Pin the Image Below to Save for Later