I really love introducing my students to new author, character, and genre studies. So far this year we have enjoyed Kevin Henkes, Henry and Mudge, Amber Brown, Amelia Bedelia, Frog and Toad, and so many more. Now that we are in the 2nd semester we are getting into more chapter book studies rather than picture books. Of course we will keep reading picture books, but more for mini-lessons and for enjoyment.
Anyways… Each year I spend 2 weeks on our
mystery unit
. This past week we read Cam Jansen and The Mystery of the Stolen Diamonds as a class. My grade level has a class set, so it's perfect for this unit!! As we were reading our first mystery book, I was modeling how to stop and check for/discuss clues, suspects, detectives, witnesses, evidence, etc BECAUSE during the 2nd week of our
mystery unit
my students do this with a small group. So, I want them to be fully prepared to do this cooperatively while I facilitate!
Here is the project that we completed after reading our mystery chapter book. My students drew a scene from the book, organized the parts of the mystery, and summarized the book.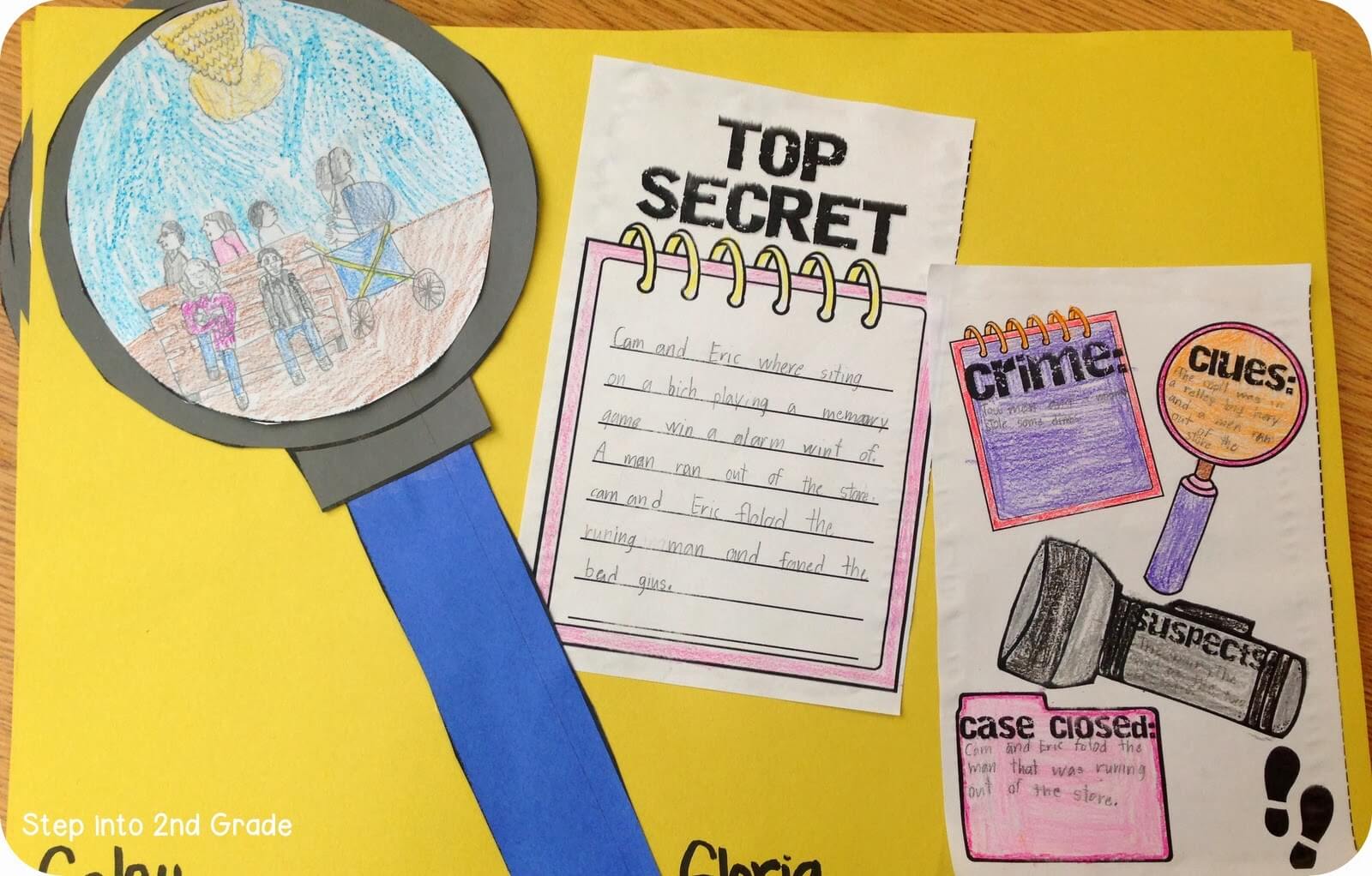 Now that we have spent a week doing this together, my students will spend the next week doing something similar in their reading groups. I put about 3-4 students together into
detective clubs
. Each
detective club
gets a mystery book (on their level), a
case file
to fill out while reading the book (this has space for them to write about the clues, suspects, crime, solution, etc.), and detective badges. On Tuesday, my students will break into their groups and begin working together to crack the mystery!!
I'm seriously excited to pass these out!!
You may be wondering how I get enough mystery books… well, my school has a guided reading library. We have lots of books to choose from! I just go and grab all of the mystery sets and use what I need to fill up the
case files
! If you don't have access to leveled books like this, or enough of them, you could also have your kiddos check out mysteries from the library, email your fellow teachers and ask to borrow any Cam Jansen, A-Z Mysteries, Nate the Great books, etc. I also have friends that use the same mystery book for each student and that works also!
With 2 classes, I have lots of groups to set up!! It's totally worth it because my kiddos LOVE reading mysteries! They will be checking mystery books out from the library for the next several weeks because it perks their interest every time!!!
All of the things above are in my
Mystery Mini-Unit
! If you have purchased this before go and download it again… I just gave it a facelift and added a few activities to it!