Happy September to all my fall-loving friends! As soon as September hits, I know I'm ready for all things fall, but the weather here in Texas just does not cooperate. Since I can't pull out sweaters, boots, and jeans just yet, I have to rely on apples to give me my fall-fix. How about you?!
Today I am going to share my favorite fiction and nonfiction apple books with you. I have searched high and low for the best of the best ALL THINGS APPLE picture books. I can't wait to dig in! Oh, and I also have a BRAND NEW apple freebie for you!
Apple Picture Books for the Classroom Library
First, let's start with an apple picture book round-up. I have ordered and read dozens of apple books. I'm not going to lie, some of them were just rotten ;). I promise to only share the ripest of apple books out there!
Favorite Nonfiction Apple Books
I love a good mix of fiction and nonfiction books when I'm pulling resources for the library. Having both options will give an opportunity to discuss elements of both fiction and nonfiction books. Let me highlight my favorite nonfiction apple books first.
Nonfiction Apple Books:
Favorite Fiction Apple Books
In my opinion, the fiction apple books are the best of the bunch! I was able to find several more fiction apple books than nonfiction that were worth sharing. There's a good mix of stories about friendship, helping, history, family, and fun!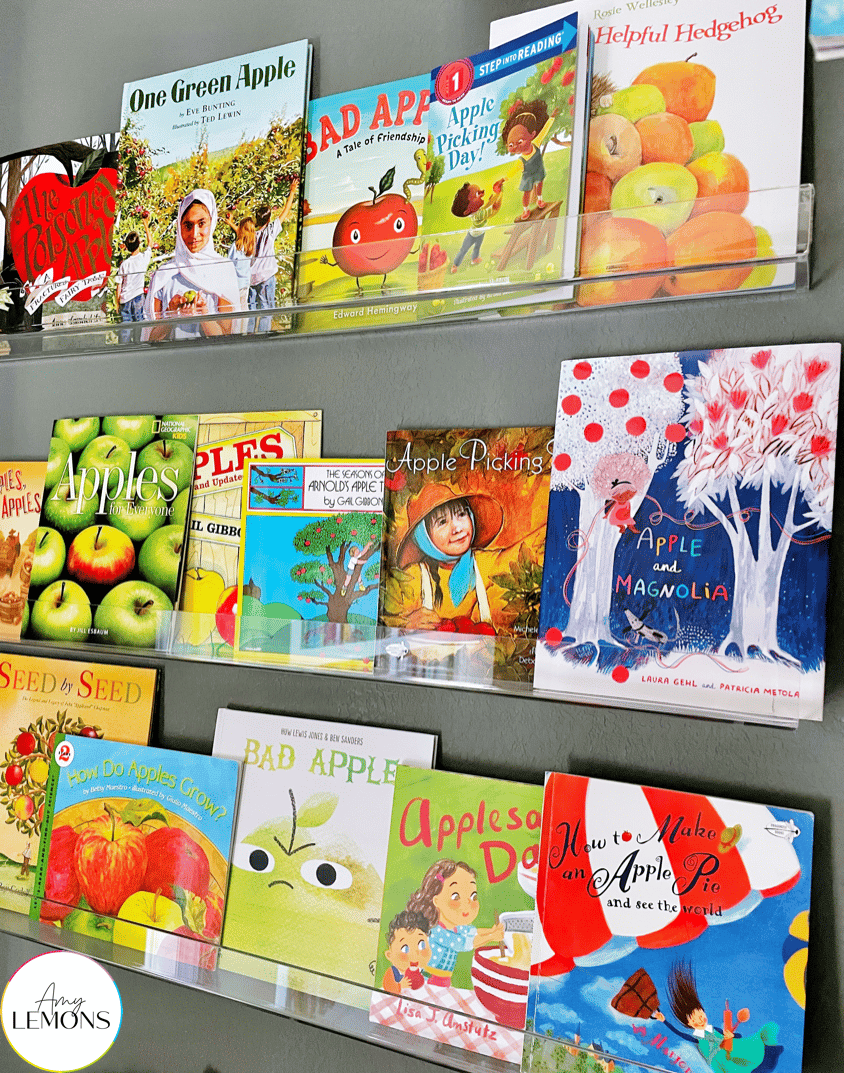 Fiction Book Apple Activity
To go along with your favorite fiction apple book, your students can make A Very Appilicious Book. For this activity, students will retell the beginning, middle, and end of the fiction story.
To create the booklet, fold a brown piece of construction paper into thirds. Glue the front cover label and the tree topper to the outside of the folded booklet. Glue the writing sheets on the inside of the folded booklet. Students write about the beginning, middle, and end of the story.
Nonfiction Book Apple Activity
This same booklet can also be used to retell facts about apples and apple trees. The booklet is made in the exact same way. The only difference is students become fact finders and write information about apples.

FREE Apple Activity for the Classroom
Grab this FREE apple activity below!
This Apple Booklet is NOT included in any of my resources, so this is an EXCLUSIVE freebie just for you! Simply fill out the form below to gain exclusive access and be sure to add amy@amylemons.com to your contact list to ensure that you receive your goodies!
Looking for Apple Resources?
Wanting to dive deeper into apple activities in your classroom? Check out the apple resources we have below!