Have you started back to school yet? Are you teaching in the classroom or virtually? This is such an interesting year to say the least!
Israel started school this past week. I've got a virtual 2nd grader in my house!
While we will be following the district's curriculum for 2nd Grade Virtual Learning, I will also be filling in the gaps with digital activities on Seesaw. They are great for practice and repetition. The activities are quick, interactive, and fun!
Here is one of the resources that I will be using with him this year:
Digital Activities for Grammar
In the activity shown above, students become virtual tennis players! Students find the tennis balls that show a verb, then they hit the ball by covering it with a tennis racket! Click HERE to find more verb activities.
Interactive Digital Activities for Verbs
Click HERE for Verb Activities
Click HERE for Digital Grammar Bundle
Am I a Verb?
If you are unsure if these can be used for your learning situation, I have created a FREE Verb Activity for you. Download it, give it a try, and see if it works with your learning platform.
In this FREEBIE, students identify whether the word/picture shown is a verb or not. Students move the yellow circle to cover the correct answer.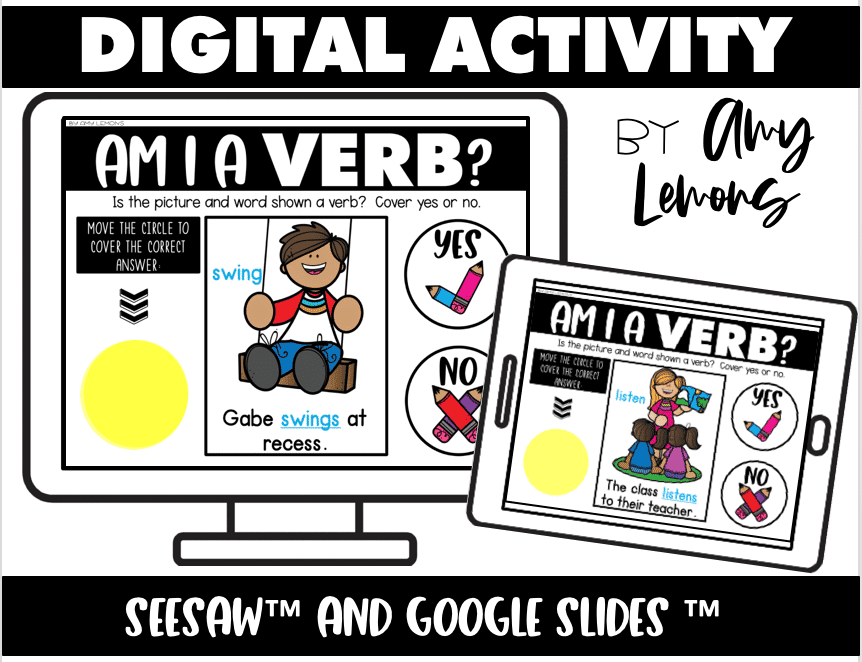 In this document you will find links to upload this to Google Classroom and/or Seesaw! I hope that is helpful for you!
Subscribe below to grab your FREEBIE! Once you subscribe, check your email (make sure it isn't in SPAM), and click "Confirm Subscription" The document will download immediately after! If you are using a school email address, it may not work. Many districts block emails such as these! Use a personal email address, and you should be good to go! It's also best if you put this email on your SAFE/NOT SPAM list: stepinto2ndgrade@gmail.com.
Even if you have already subscribed to my newsletters, you can still put your information in the box below. You will receive the confirmation link and download through your email.