One of my favorite things to do is create new bulletin boards. Actually I get the most joy from ripping down old ones. And then I have to remove staples after ripping and the joy goes right down the drain, lol!
This board is right when you walk into the school. I do something very similar here every year, but I did change it out! The "RHEA" comes from the school name and their theme is being Out'RHEA'geous!
The paper fans are from Hobby Lobby in their party section. The borders are from Mardel. You can also find the polka dot border HERE from Schoolgirl Style! I'll talk about fonts in a bit! The black paper is fadeless paper found at a teacher store.
I get asked a lot how I apply the fans. I just staple them up… nothing fancy! You can also use command strips if you can't staple! Katie King gave me the Paper Fan idea a few years ago and it's basically my go-to now!
Also, I just print the letters out on Astrobrights Cardstock paper. And… I cut by hand. I still haven't purchased a Silhouette Cameo or Cricut, so I just do it the old-fashioned way! People are baffled by it, but I just can't make myself spend the extra money!
I do love how it turned out! It has A LOT going on and is very BRIGHT, but I think it's a perfect way to welcome the students!
Fonts that I used: AGImExtra, AGHashtagNope, AGBetterLateThanUgly
This next board was an idea given to me by the principal and counselor. I cannot find the original source, so if you know where I can link, please let me know!
The students will stand in front of the wings for a little photo-op. This board is extremely long so I needed to use big letters and cover it as best as I could! Once again… It's very bright and has a lot of color going on, but I just can't escape the bright paper, ha!
To make the wings, I just cut a feather template over and over and over again. Talk about a cramping hand! Then I stapled randomly until they made wings. They aren't symmetrical, but they will do 🙂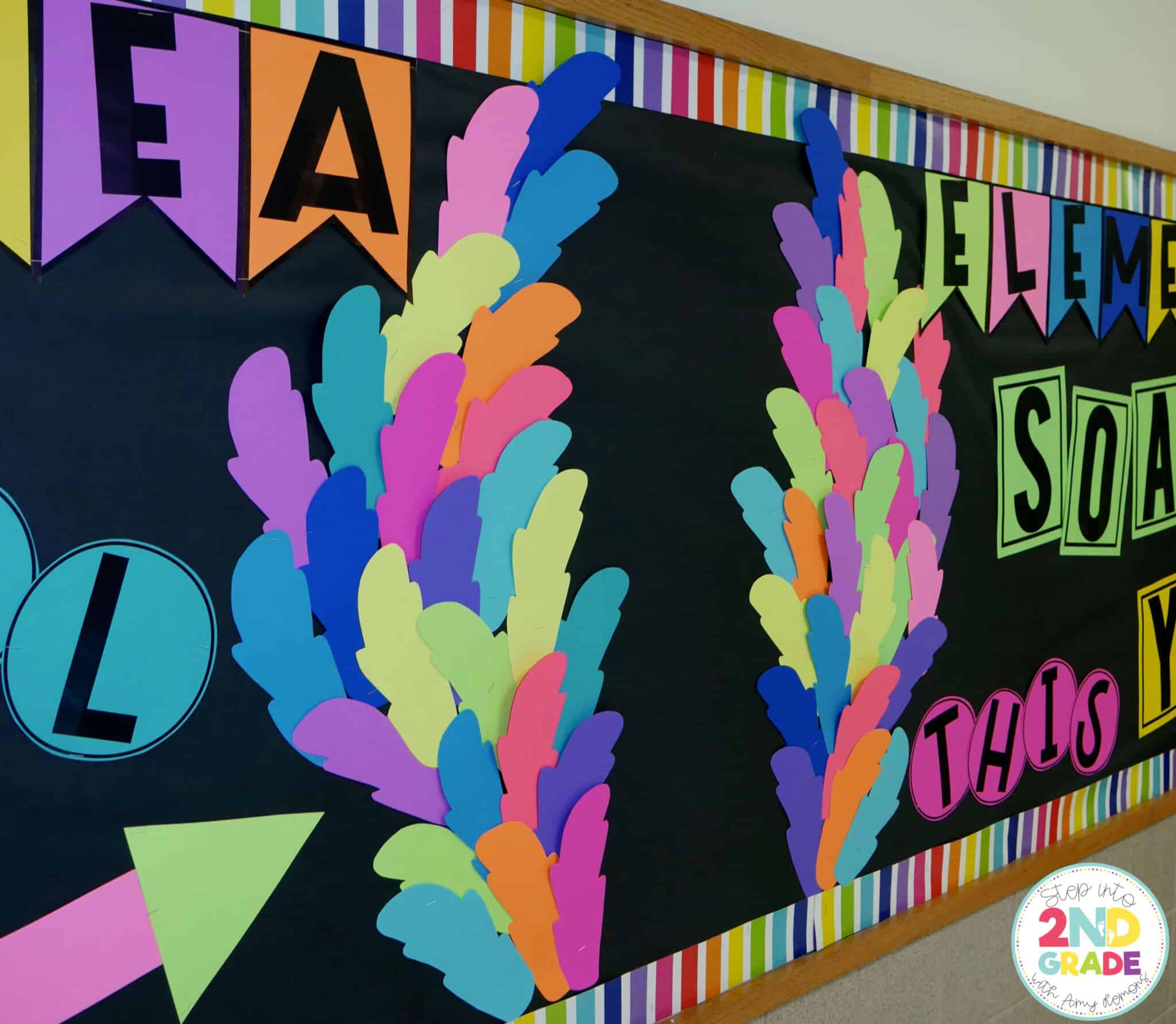 The border is from SchoolGirl Style. You can find that HERE!
Fonts I used: BabblingJoelle, BBCircleUp, Bebas
Here's what it looks like with some pretty cute kiddos standing in front of the wings 🙂
Okay, let's talk about letters. I don't make bulletin board letters to sell… BUT it is SOOOOO easy to make your own so that you can choose your own saying, sizes, and fonts! A couple of years ago I made this YouTube Tutorial Video. It will show you how to make your own bulletin board letters! Also, I printed everything out on regular paper, so nothing is blown up or larger than 8.5 x 11!
You can find other Bulletin Board Posts HERE and HERE! Happy Back to School!