Each year I look for new ornaments to make with my children. I'm always on the hunt for something that is kid-friendly and not heavy on adult assistance. This year I found Christmas Tree Clay Pot Ornaments from Projects with Kids, and immediately knew we needed to try them out! We had not worked with clay pots before, so that added a new element of fun.
Supplies for Christmas Tree Ornament
The best thing about this project is I had most things on hand. I only needed to buy the 2-inch clay pots. Here is what you will need to make this ornament:
Q-Tips
Step One
First, your children or students will need to paint the clay pot green. Any shade will work! Israel chose a darker green, while Joelle chose a brighter green. We applied 2 coats of green paint and then set the pots aside to dry.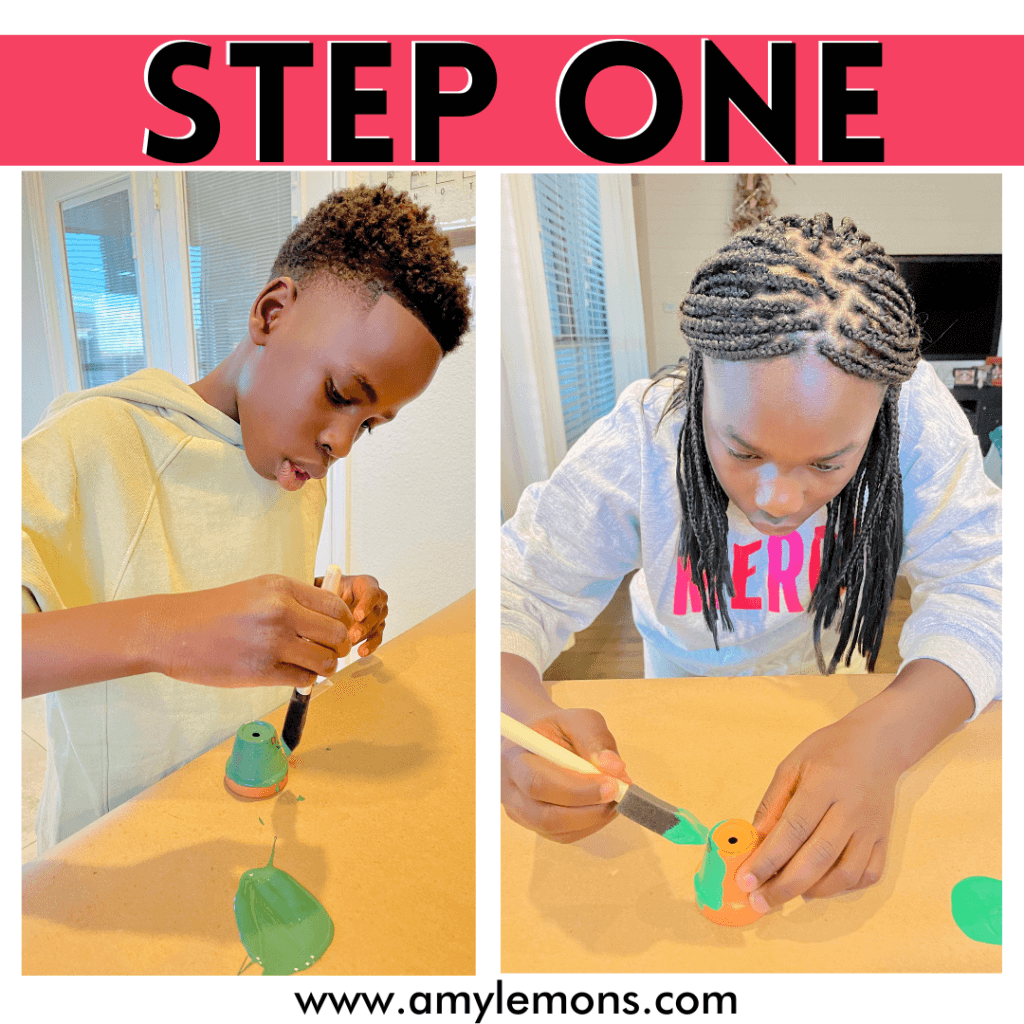 Step Two
After the green paint had dried, we used q-tips and different colors of acrylic paint to make ornaments on the pots. I taught my kids how to make sure they had the perfect amount on the q-tip so that it wouldn't drip. We used a variety of colors we had on hand and scattered the ornaments all over the pot.
Step Three
After the paint was completely dry, I added the ribbon. This was the only part that they needed my assistance on. I simply looped the ribbon through the drainage hole and tied the knot on the inside of the pot. This ensured that the ribbon was secure.
My kids added a foam star sticker to the ribbon once I was finished tying them off! If you had wooden stars or something similar, you could also hot glue those onto the ribbon.
Pair with a How To Writing
This ornament also pairs well with a How To Writing activity. You can have your students write the steps to making the ornament before, during, or after. Here's how that might look:
First, use a paintbrush to paint the pot green and let it dry.
Next, use a q-tip to paint different colors of ornaments on the tree.
Then, tie a ribbon to make a loop.
Last, add a star sticker to the ribbon.
You can grab that writing paper HERE! I also kept the title pretty basic so that you can use it with an ornament of your choice!
And that's that! These were super simple to make, didn't require too much adult assistance, and did not eat up too much of our time. Plus, the Christmas tree clay pot ornaments look just precious on our tree.
Pin the image below to save for later!